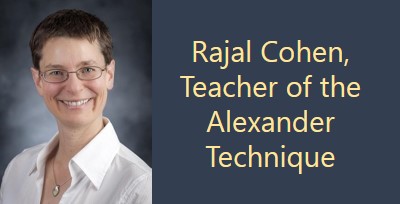 Home
Description
Lessons
Bio
Resources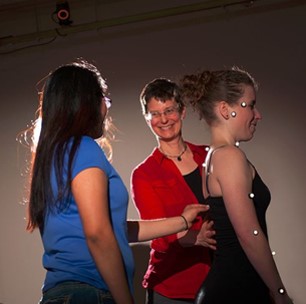 I am a 1997 graduate of the Virginia School for Alexander Technique, a 3-year, 1600-hour teacher training course certified by the American Society for the Alexander Technique and recognized by affiliated international societies. Since then, I have worked with many different kinds of students, including performing artists, athletes, equestrians, and people with pain or discomfort. In my teaching, I aim to incorporate careful analysis and subtle hands-on guidance with healthy doses of humor and compassion.

I received my Ph.D. in cognitive psychology, with a minor in kinesiology, from Penn State University in 2008. My postdoctoral research in the Balance Disorders Lab at Oregon Health & Science University focused on the relationships among cognition, posture, and gait in adults with Parkinson's disease.

I am an Assistant Professor at the University of Idaho, affiliated with the Department of Psychology and Communication Studies, the Graduate Program in Human Factors, and the Graduate Program in Neuroscience. My research laboratory, the Mind in Movement Lab, is dedicated to exploring the inter-relationships among cognition, action, and posture. I enjoy mentoring highly qualified and motivated graduate and undergraduate students. My research is guided by a desire to bring insights from somatic practices (including the Alexander Technique) to the scientific study of movement.
---
Rajal is a calm, open person with a ready smile. She listens well - which enables her to solve the real problems. She has a wonderful sense of humor. I liked all three of my Alexander teachers, but Rajal is my favorite.
- Allen Bachelder, Professor of Trumpet, Virginia Tech
---
Thank you so much, Rajal, for everything you have done for me. I truly believe that working with body awareness for the past year or two has given me the framework within which to tackle some old emotional stuff. But much better than that, it's given me a quality of movement and a sense of self that I love so much!!! What a gift.
- Sue Daniels, Wildlife Biologist and Equestrian
---
Rajal, I'd like to thank you again for the wonderful workshop. My students absolutely loved it; it was a wonderful educational opportunity for all of us. Your obvious thorough organization and planning helped to make the event even more interesting, especially for those who had had no prior connection with the concepts.
- Marianne Sandborg, Artist in Residence, Roanoke College
---



Some Workshops Presented

Scientific Principles of the Alexander Technique, presented at the Annual Conference and General Meeting of the American Society of the Alexander Technique (Boston, MA) - June, 2015
University of Idaho Dance Department (Moscow, ID) - spring semester, 2013

Privately organized workshop for massage therapists (Beaverton, OR) - 2010
The Pennsylvania State University Theatre Department (State College, PA) - fall semester, 2002

Blue Ridge School of Massage and Yoga (Blacksburg, VA) - 1998, 1999, 2000, 2001, 2002

Texas Tech University, Departments of Music, Theater & Dance (Lubbock, TX) - October-November, 2001
Theater & Music Departments, University of the South (Sewanee, TN) - 2000, 2001

Burrell Nursing Home Inservice (Roanoke, VA) - October, 2000

Willow Ridge Horse Farm (Riner, VA)- October, 2000

Virginia Nurses Association (Salem, VA) - July, 2000

Simple Springs Horse Farm (Floyd, VA) - May, 2000

Hollins University Dance Department (Roanoke, VA) - March, 2000

The Yoga Center (Roanoke, VA) - 1999, 2000, 2001, 2002

Roanoke College Fine Arts (Roanoke, VA) - November, 1999

Hollins University Music Department (Roanoke, VA) - fall semester, 1999

The Center of Dance - August, 1999 (Blacksburg, VA)

Virginia Tech Student Health Services Inservice (Blacksburg, VA) - August, 1999

Southwest Virginia Dressage Association (Floyd, VA) - February, 1999

Virginia Tech Women's Center Staff Retreat (Blacksburg, VA) - December, 1998

Radford University Music Department (Radford, VA) - October, 1998

Montgomery County Health Department Inservice (Christiansburg, VA)- May, 1998

Virginia Tech Theater Department (Blacksburg, VA) - January, 1998

Optimal Health Associates (Blacksburg, VA) - 1997, 1998, 1999


---

Miscellaneous Things About Me

I have played clarinet, recorder, alto and tenor saxophone, oboe, trumpet, and guitar. I also like to sing. My athletic endeavors have included swimming, hiking, soccer, skiing (downhill and cross-country), yoga, running, Tai Chi, Hsing-I, Aikido, and dance (ballroom and contact improvisation). I have worked as a waitress, garbage truck driver, office worker, mover, construction worker, farmer, cook, and more.

I have experienced recurrent back injuries, chronic neck pain, fallen arches, sprained ankles, and stage fright. The Alexander Technique has made a tremendous difference in my life with respect to all of these issues.

I love to work with students who work or play at some activity I have never done myself. So far, the principles of the AT have always allowed me to provide valuable insight.

I have lived in Philadelphia, Pennsylvania; Whitefish, Montana; Middletown, Connecticut; Charlottesville, Virginia; Floyd, Virginia; State College, Pennsylvania, Beaverton, Oregon; and (now) Moscow, Idaho. I love to explore and learn about nature and the great outdoors.

I feel extremely lucky to have discovered the Alexander Technique. I find it fascinating that with the same principles of careful attention and non-overdoing I can help both people who are in so much pain they can barely move and high-level performers who are able to perform incredible feats of agility. I love that this work educates and empowers people to take care of themselves, instead of remaining dependent on a healer to take care of them.

---

Contact Rajal at 208-882-1844 or rajal.cohen@gmail.com, or visit her Main Page