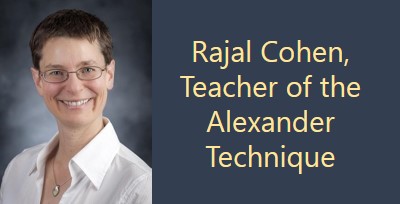 Home
Description
Lessons
Bio
Resources
What is a lesson like?
Over a course of 45 minute lessons, a teacher of the Alexander Technique will use gentle verbal and hands-on guidance to help you discover what unnatural patterns you have been imposing on your form and learn to undo them. The process is active, engaging, often surprising, and fun.
Dressed in comfortable clothing, you will explore simple everyday movements such as sitting, standing, walking, reaching, and bending. With verbal and hands-on assistance from the teacher, you will learn to observe and change habits that interfere with optimum functioning.
Part of the lesson usually takes place on a table, where you can begin to change some of these habits without the interference that often comes with being upright.
After you learn to inhibit destructive habits in simple activities, your teacher can show you how to apply the principles to more complex mind-body problems, such as how to sit a trot, play a challenging passage of music, weed your garden, or pay your bills with a minimum of strain and tension. With continued practice, your kinesthetic feedback system will become more accurate, and you will be able to apply the principles to new activities on your own.
As you incorporate the technique into your life, you will find that you are more poised and confident, and readier to meet the unknown.
---
To schedule or learn more about: